Kenaf Choosing The Right-Seed
   Picking the right-seed can be tricky since kenaf seed comes in hundreds of varieties. So how do you go about choosing the Right-Seed for you? Whether you know what you will do with your harvest or not, your choices will be one of the varieties types we have selected based on your latitude/location for optimal fiber and/or seed yields. At the end of 2019 we will have an online catalog that will cover each of our chosen varieties in detail. In this way you will have the information you will need to plan either your seed growing business or fiber/wood business or a combination of both. 
   The right seed for you will be based on one of the following 3 types. These types are Ultra Early Maturing (60-70 days), Early to Medium Maturing (70-100 days) or Late  Maturing (120 days).
   Approved seed which will be listed in the catalog, will be available to approved seed growers until sufficient supplies of seed are available for fiber/wood growing businesses. Why? Because the demand for kenaf fiber/wood is huge and right around the corner. Also, there were no kenaf seed growing operations in the USA and mosty dedicated kenaf seed growers for specific products on a global scale. This left very little kenaf seed or new businesses. 
   In 2019 we will be testing 31 varieties for germination rates and seed yield. You can find out about this and if interested participate in this research seed growing pilot program for 2020. This is where you can start your kenaf business in the USA.
Right-Seed
by Location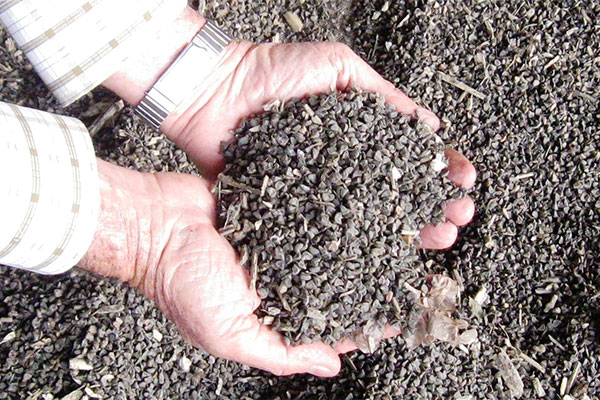 Kenaf plants seed growing habits are determined by location. You may be familiar with growing zones for seed varieties, but these zones do not apply directly to kenaf growing requirements. For this type of plant there are three categories Ultra Early Maturing (60-70 days) Early to Medium Maturing (70-100 days) and Late Maturing (100-120 days) varieties. The growing locations for each of these types is based on Latitudes and not growing zones. One of these will be the right-seed for you in your seed growing business. 
   Here in the good ole USA we need to have kenaf grown for seed supply for a number reasons. One reason is there is not enough kenaf seed supply in the world to supply our commercial farmers here as a rotational cash crop, for example.
   All kenaf grown in the US as far as I know and at this time is imported seed and not something we should have to depend on. I believe this is where we need to start so we have a growing supply of seed we can depend on.
   Another is market control. How many opportunities will we miss out on if we cannot meet the quantity  requirements of manufacturers and processors for fiber/wood? This is my plug to grow kenaf for seed. You can still get fiber yield when you grow for seed, just not as much based on plant spacing, size of plant (seed growing methods are different than fiber growing methods).
Right-Seed for
Kenaf Seed Growing Operations
   If you live in southern Florida at or below 27 degrees N latitude or southern Texas in the Rio Grande area Late maturing kenaf seed can be grown for seed.  These two areas in the USA are the only locations this type can be grown for seed harvesting.
   If you live N of latitude 27N then Early to Medium Maturing (30N-40N) or Ultra Early Maturing (27N-46N) types are your choices for seed growing operations (continental USA). 
Right Seed for Fiber/Wood/Seed Oil
   If you are growing kenaf for fiber,wood or seed oil then you want to choose the right- seed to maximize yield along with the qualities determined by variety. These qualities will be lab tested in 2019. The varieties that will be tested are those chosen to meet germination rates and seed yields in our Research Pilot and made available in our online catalog at the end of 2019.
   Along with seed testing the fiber/wood qualities will be tested in a lab at the end of 2019 for each of our 10 current seed growers for the varieties that meet our germination and seed yield requirements.
   One of our partners will be contacting manufacturers and processors in several major industries to determine what they require and match these manufacturers to the varieties that meet their requirements. These requirements and details will be part of the catalog as well.
   Once all of this data is compiled we will be able to recommend which varieties to grow for seed in your latitude and while supplies last you will be able to purchase directly from one of our current seed growers once you are approved for a seed growing operation with signed agreements. In order to meet kenaf seed demands in the USA for fiber and wood we must first build up our supply of seed to meet these demands. Each year after seed harvest and based on overall yield we will have a better idea of when seed will be available for purchase for fiber/wood/seed oil growing operations.
   Once we have our final list of varieties I will post them on the appropriate web page according to type, along with germination rates, seed yield, fiber/wood/seed oil and industries each is suited for. This will be in addition to the catalog. In this way you will have the information needed to choose the right-seed for you.
Would you like to have a similar site for your state?