Investing-Strategy Background
   You have looked at more than one investing-strategy and there have been many, so we don't need to cover them here.
   Let's take a fresh look at something new (at least I haven't heard of this before).
   What has prompted this was putting the major problems in the world into one basket, connecting the dots and finding one thing that could solve the many problems over time. After years and thousands of hours of studying the various aspects of the many parts in this basket, I have concluded that kenaf farming as a major industry in the USA and elsewhere has the potential of solving many of these major problems 
https://www.youtube.com/watch?v=YsA3PK8bQd8&fbclid=IwAR1bwu2hNaLXfKMBnepiXFwurXCEOEqP_LwVT6wGmTnrWO3uOhmi0boZbmc
 and provide a long term strategy for investors.
   Once my focus was directed to kenaf, the first step was to acquire kenaf seed. This is were the challenge began and has continued over the last 3 years. Currently there are no kenaf seed growing operations in the USA that I know of. Kenaf Partners USA has started a kenaf seed growing pilot program beginning in 2019 to address this challenge. This strategy has the potential to begin meeting the supply demands for kenaf seed by 2021 for the USA.
Click on this link to see kenaf seed pilot program.
   Starting out with the the ideas of what kenaf can be used for (25,000 different uses), I looked into what are the basics needed for survival and the part kenaf could play in providing these things on a local level. In order to survive humans, plants and animals need healthy abundant water, food and housing/habitat and energy. Kenaf grown on existing corn, soy and cotton farm land in the USA for example can reduce pollution getting into our water from the use of herbicides, pesticides and fertilizers when used as a rotational cash crop (kenaf needs less water and does not need pesticides and fertilizer).
   Use of kenaf in manufacturing processes can also reduce pollution into our water See example here.  Kenaf can also be a source of food for humans, plants and animals. By reducing the need to cut down trees and using kenaf wherever possible as a resource for our basic needs, while saving habitat for animals, we may have a chance to do something about the outcomes as covered in the video above. These 3 things address an investment startegy both in short term and long term investment.
   Why Invest in Kenaf Seed 
   If you or someone you know has land to grow kenaf on in the USA you can start with an investment of $7.98 for 100 seeds and in one season produce enough seed to plant a minimum of 12 acres of kenaf for seed in the following season. 12 acres of a seed growing operation has the minimum potential of producing enough kenaf seed to plant 42,000 acres for additional seed growing operations.
   By the 3rd season 12 acres could produce enough seed to plant 42,000 acres of kenaf seed growing. Continue planting 12 acres and sell seed to other startup seed growing operations and begin to sell seed to fiber growing operations as rotational cash crop or corn, soy and cotton farmers.
   Importing kenaf from Malaysia for example in 2018 cost roughly $3.50/lb. of kenaf seed with a minimum order of 1 ton of seed. With the new international trade tariffs, we are expecting these prices to go up.
   Regardless of external influences on imported market prices our seed growing operations of 12 acres selling seed at $2.00/lb. (2 pounds of seed needed per acre for seed growing operation) would produce 84,000 lbs. of seed for gross sales of $168,000.00.
   Not bad for an initial investment of $7.98 for seed and 2 years of part-time work for a grower!
   In addition there are the kenaf stalks that could be sold for fiber/wood needs.

But what if I want to invest my money and get a return on my investment?
   Well, you can do just that! Start the ball rolling by filling out what you are looking for in the form below and find your partner(s) in the kenaf industry.
   This is all new to me, where do I start?
    Study the various sections of this web site and get familiar with kenaf and discover where your interests are related to kenaf. You may want to connect up with one of our existing seed growing operations or start one of your own near you. 
   If I partner with someone with 12 acres who is or wants to grow kenaf for seed, what are some of my options?
   Invest in the equipment needed for a smooth and professional operation, negotiate the terms with your new partner(s), email me with any questions, but most importantly act today.
   Seed harvesting equipment, seed handling and packaging equipment will be needed in 2020 and beyond. As the demand grows for kenaf seed, increased investing in the seed harvesting, handling and packaging equipment will be needed. At some point seed storage facilities on or near seed growing operations will also be needed and investors will want to participate in these as well. This is where our initial investing-strategy will be focused. 
Seed and Fiber Harvesting Equipment
   Sickle mowers as above will require retrofitting of the blades to accomodate up to 4 inch diameter stalks.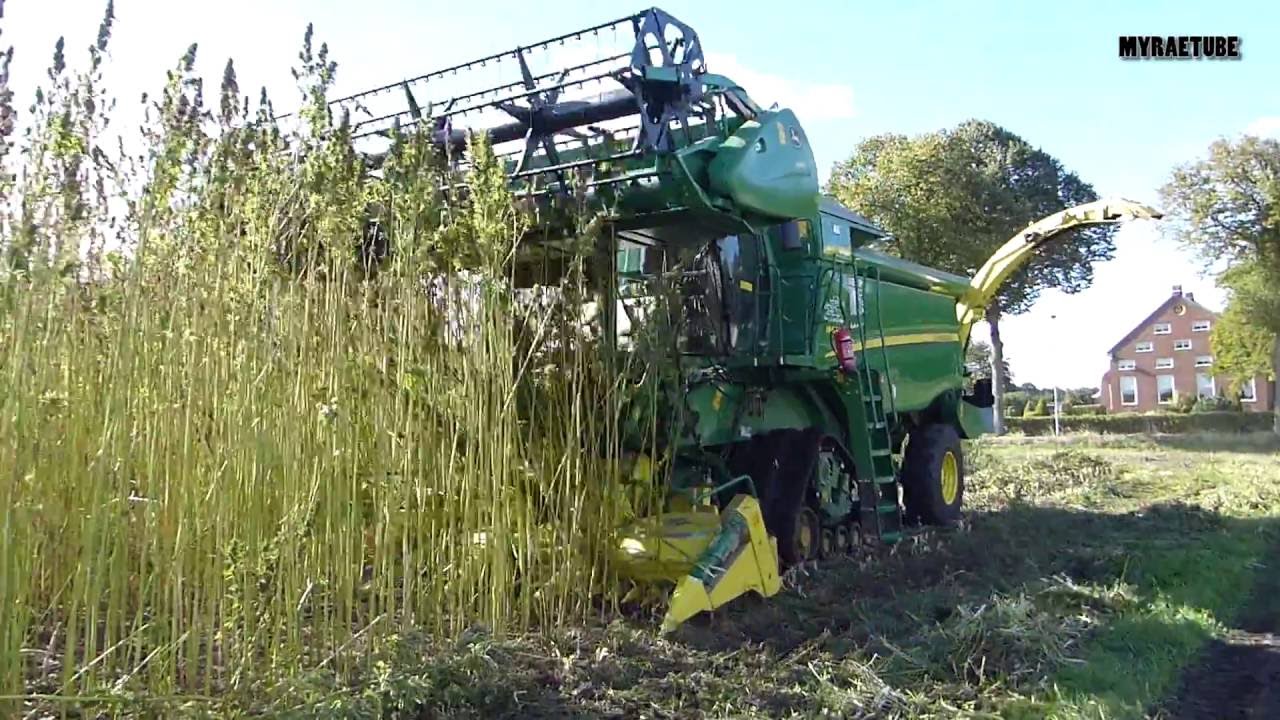 John Deere 660i (2013 ($208,000 not including shipping)
 There are some processors specializing in niche markets i.e. kenaf paper, kenaf animal bedding, kenaf grow mats, oil spill absorbents and even fire logs. One niche market for tinctures using the oil from the seed. These were companies with their own capital to invest in their name brand products. None of these companies had extra seed for sale and were importing seed to the US for their fiber/wood and seed oil extraction operations. Investing-strategy for these were self contained. Additional investments in these operations may be available. 
   Research phase 2 on kenaf made solar energy and storage is needed as well. $5 million is needed for this now.
   During the last 3 years I sold 100 seeds for $7.99 including shipping and marketed it on the internet. Customers came back to order again and wanted larger quantities. Who were these customers? One customer buys energy companies and wanted to test 600 acres by a coal plant and use the kenaf bio-mass to burn with the coal and possibly replace it. 
   Another was an established company having to import industrial hemp for the products they marketed. 
   Connect with these and more by filling out the form below.
    I was even contacted by a hemp and kenaf processor for seed. An organic seed company recently purchased one variety of kenaf seed.
    In 2018 my customers were growing 1-3 varieties of kenaf in 26 states. One of these customers included kenaf and soil research for their PhD. Two others working on their masters degree centered around kenaf (riparian restoration, bio-diesel, paper plates and utensils at a local school that grew kenaf and composted it). Kenaf seed was also donated to a Michigan Sate University research project for kenaf made solar electric panels (3 nano sheets thick and stronger than Kevlar) and high capacity storage batteries.
    Currently I have customers in 28 states and multiple customers in some states. Based on phone conversations with some of these customers, there is no shortage of land that can be made available. There are even more prospects interested in kenaf just through word of mouth.
   Should our kenaf seed growing pilot program result in at least one variety of kenaf (out of 31 varieties being tested) that can be viably grown for seed harvesting (acceptable germination rates and viable seed yield) in the North, Central and Southern States (latitudes 26N-50N), we can have successful seed growing operations in every state. Based on reports from the north and central we have 1 variety in the north with 5 additional contenders for the central area. Those in the south had personal emergencies preventing them from planting in 2019. We have additional growers for the south for 2020.
    With 10 seed growing operations started in 2019, 90 seed growing operations in 2020 (we have 30 interested parties to date) and 600 possible in 2021 with estimated conservative seed yields sufficient to plant 600,000 acres by the end of 2021. This is enough to keep each of our seed growers with seed and extra to sell to kenaf fiber growers including corn, soy and cotton farmers as a rotational cash crop. Now is the time to start the conversation.    
   One of our seed growers is testing seed varieties in hoop houses in Wisconsin, Illinois and Indiana) utilizing hydroponic techniques and growing 3 seed crops/year to see if space restrictions vs multiple harvests makes this option viable.
Investing-Strategy Critical Path Method
   Investing-strategy, using the critical path method, or critical path analysis, is an algorithm for scheduling a set of project activities. It is commonly used in conjunction with the program evaluation and review technique. Wikipedia
    In 2019 Kenaf Partners USA will invest seed, cost of shipping seed (for participants in the kenaf seed growing pilot program), consulting services, web site, books (Free pdf book downloads), marketing promotions, press releases and more for existing and future kenaf partners. These have been done and will continue. 
This our way of Paying It Forward! 
   Critical Path and Investing-Strategy for kenaf industry is:
Seed growing operations ONLY, through 2021. 

2019 determine viable seed varieties based on germination rates and seed yield.

2019 test chosen seed varieties for fiber/wood testing in lab.

2019 research kenaf fiber/wood specifications required by major industries.

2019 determine quantities of kenaf fiber/wood needed by existing industries targeted.

 This is being re-evaluated based on hempcrete/kenafcrete interests and options for buy/sell contracts.

2019 complete research and development for kenaf solar electric and high capacity storage batteries.

2019-2020 kenaf seed growing in hydroponic greenhouses. Determine if space versus 3 harvests annually to be viable. 3 varieties.

2019 determine seed harvesting equipment needed for 10-1,000 acre seed growing operations. 

2019 determine seed processing equipment and infrastructure costs. Done
2019 determine estimated ROI on seed sales to new seed growing operations through 2022. Done
2019 determine estimated ROI on seed sales 2022 and beyond for kenaf fiber/wood growing operations . Done
What is your investing-strategy?
   The "Name of Your Page" in the form below should be either Investor or Looking for Investor.
    In the tell us your story include what state(s) you would like to invest in, type of investment interested i.e. seed growing land/equipment/infrastructure or other and how to contact you. email phone web site etc.
Have an Interest in Investing in The Kenaf Industry USA? Or looking for investors in your kenaf operation?
Do you see the potential of the kenaf industry and would like to share your interests and be contacted by potential partners?
Would you like to have a similar site for your state?