Understanding The Basic Sequence
in the Kenaf Fiber Industry
   This is a basic overview of the kenaf fiber industry. Every successful industry is made up of various partners playing their part. No matter what part you decide to play in the kenaf fiber industry you will at least need to have an overview of the other players involved with fibers. 
Kenaf Fiber Products
   Here is a video showing some of the fiber, wood and seed products made in the USA from industrial hemp. These same products can be made from kenaf.  Video of products made in the US by Derek Cross. Watch the video.  
Kenaf Fiber Industry
Processing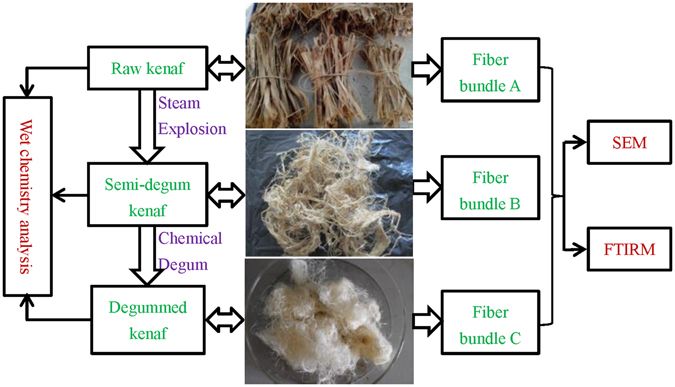 Once the kenaf stalks are harvested and the outer fiber is separated by a decorticator they go through a refinement process with each step changing the characteristics of the fiber. You can sell your fiber to a processing facility or directly to a manufacturer. You may also want to do the processing yourself, it is up to you the parts you want to play in the supply chain. You will need to know which of the above 3 fiber characteristics your buyer is looking for. Also your buyer may want the fibers made into sheets of a certain size etc.
   If you are a manufacturer, etrepreneur with a great idea or need fiber for one of your clients, you have the options of either starting out with your own seed growing operation or contract with a farmer growing seed. Having access to the seed you will need for fiber growing farmers is the surest way to have the quantities and qualities you need at the locations closest to your need. 
Kenaf Fiber Industry
Decortication
This is a mobile fuel decorticator used to separate fiber from wood core from fresh harvested kenaf stalks.
Kenaf Fiber Industry
Drying the Fiber
   After the fiber is separated from the wood core during the decorticating process the fiber goes through a drying process to prevent mold from damaging the fibers.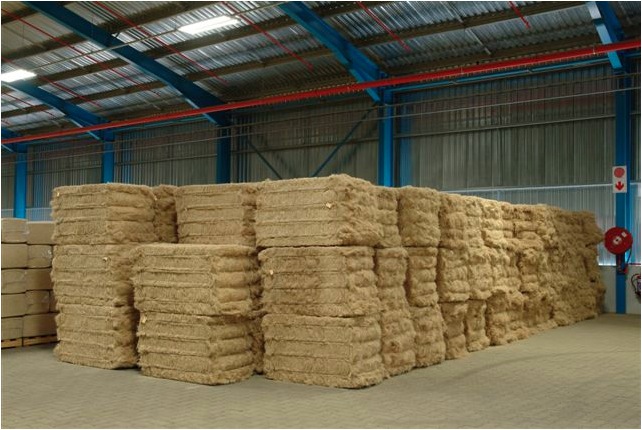 After the drying is complete and the moisture level is in range, it is time to bale if you are shipping raw fiber to your buyer. 
Kenaf Fiber Industry
Basic Sequence
Here are the steps from seed to manufacturer/buyer for fiber:
Plant seed
Harvest Kenaf
Separate fiber from wood core
Dry fiber
Process fiber to buyer standards
Bale fiber
Load and transport or store for pick up
Deliver and unload
   Your options as a farmer to sell fiber, will be to a processor who has a contract with the manufacturer(s) or the buyer directly. As a processor or buyer looking into kenaf fiber resources you can start now by posting what it is you are looking for and connect with other partners below. Whether you are a farmer, processor, manufacturer interested in getting started just fill out the form below and post what you are looking for and begin connecting up to those that are interested.
   You may want to take on the processing yourself as I have heard from one of our partners within our network. Fiber equipment used for wool, alpaca and cotton can be adjusted or retrofit to work with kenaf. Mechanical engineers can be helpful in determining how to get the fibers ready for the manufacturer. To see if there is a fiber processing mill in your state you can Google fiber processing mills (your state). Here is a link to a fiber mill that also has equipment. 
https://www.fibermillingequipment.com/
Specialized Fiber Mills or Processing Centers
   Kenaf processing plants are needed in order to make this industry take off in the USA and meet the growing demands now and in the future. Processing equipment for kenaf can also be used to process industrial hemp for fiber and wood core markets.
   Our 1st stage is seed/fiber growing operations and our 2nd stage is processing centers. Combing the 2 in an efficient manner our specialized processing centers would have a minimum of 100 acres of land. 40 acres in kenaf seed/fiber growing and giant bamboo. 
   The rest of the acreage would be used for access roads and a custom designed and built structure i.e. Olympia Industrial Buildings. Processing equipment HempTrain.
    This structure would also have training area for hemp or kenafcrete by Hempitecture. Sales offices, storage for fiber/wood/seed and materials and eqipment for kenafcrete building with bamboo. Centers like this could also process hemp fibers and provide seed for local farmers to grow kenaf. 
Need Fiber? Have Fiber? Grow Fiber?
Opportunities will only present themselves if you let others know what you are looking for. Be specific i.e. locations, quantities, qualities, prices and best way to contact.
What Other Visitors are looking for!
Click below to see contributions from other visitors to this page...

Would you like to have a similar site for your state?