Kenaf and Renewable Energy
   Let's take a walk into the future of energy imagine for a moment, kenaf is grown in many locations throughout the U.S. These local communities have a need for renewable energy. A certain percentage of vehicles and tractors have diesel engines that are designed to use bio-fuels. Oil from the kenaf seed could be used to fuel these engines.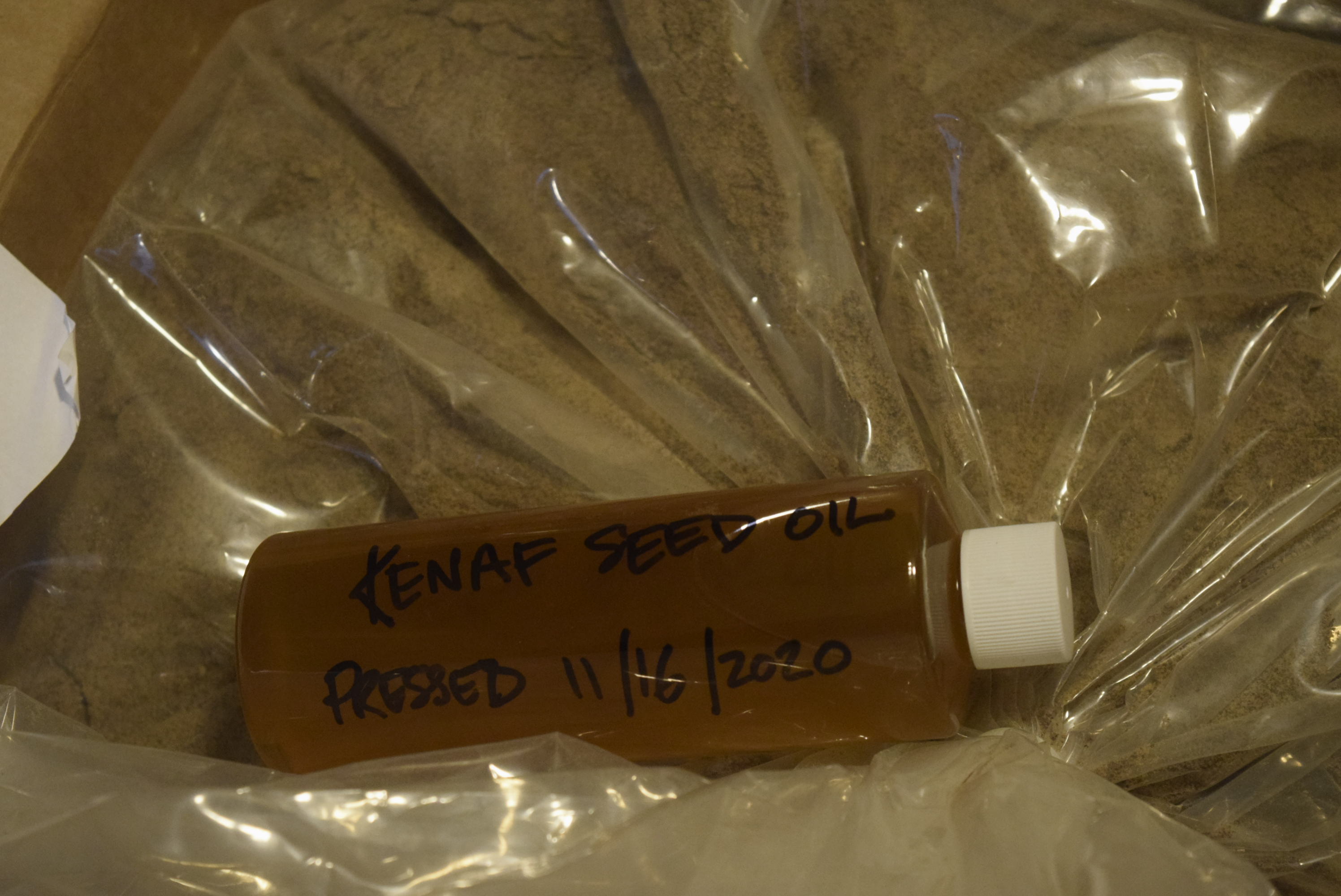 So what do you do after the kenaf seeds go through the cold press process extracting the oil? What we did was grind the seed into a meal and then finer grinding to flour as seen in the above photo. Our USDA lab tests showed 20% protein in the oil, 29.5% protein in the meal and 35% protein in our flour. Another of our initial discoveries was the super penetration quality of our kenaf oil. This oil could have many ramifications and uses to improve quality in food and industrial applications.
Electric Energy from Kenaf
 Also in this community, a percentage are electric vehicles. The development of super capacitors and solar electric sheets made from kenaf fibers and wood core can also be produced locally and made cost effective. These electric vehicles can travel 200 plus miles before needing to be recharged. Recharge time 5-6 seconds. 
   Homes and businesses are powered by these as well. 
   The future begins now, because these technologies have been in the works and the final stages are being tested and moving forward.
Super Capacitor Testing Results 001
Super Cacitor Testing Report 001
   With the similarities of industrial hemp and kenaf fibers and wood core these can be expected from both. Here is some technical data on the progress that is being made. Interconnected Carbon Nanosheets Derived from Hemp for Ultrafast Supercapacitors with High Energy
Energy Factors and Tipping Points
   No one really knows what our future will be, yet watching trends can be helpful in making decisions. Like I never know who may show up on this page and be reading this and who they know, their interests and resources. It could be you who makes a decision that sets in motion the strategy that will take what I am about to share to a whole new level. Will that be a tipping point? 
   In order for kenaf to become a resource for renewable energy, kenaf will need to grow in enough acres across the U.S. and this will take a huge supply of kenaf seed and enough varieties to meet the demands. 
   In order for these imaginary futures to become real, Kenaf Partners USA is strategically addressing kenaf seed supply. We are testing varieties of kenaf that can be grown in any U.S. state for germination rates and seed yield. 
   Once we complete this stage, and viable varieties are known, we will move forward with these varieties to reach a sufficient supply level so we can then move onto the next stage.
   The final stage of this phase of strategy will be complete when 11% of U.S. corn, soy and cotton farmers are growing kenaf as a rotational cash crop. This is the tipping point I am shooting for.
   In order to move things ahead to meet the demands coming in regularly, we have decided to plant Whitten kenaf on 400 acres in Belize in December 2020. Expected yield of seed to be 400,000lbs. Some of which (about 74,000lbs.)  will be used to plant an adjacent 3,700 acres after our March 2021 harvest. You can pre-order seed NOW! for delivery in April-May 2020.
Money as Energy
   Scientific definitions for energy
   The capacity or power to do work, such as the capacity to move an object (of a given mass) by the application of force. Energy can exist in a variety of forms, such as electrical, mechanical, chemical, thermal, or nuclear, and can be transformed from one form to another.
    In this day and age it does take money to get work done. Forward progress is fueled by money and money is a form of energy. Putting money to work to get things done, that results in more activity and work getting done, and converting work energy back to money energy would make a wise investment.
   Check out my Investing Strategy!